You've spent weeks, if not months, designing and carrying out the perfect home improvement. The end product is spectacular, and you are in awe of the lovely new room in front of you. But, before you can completely appreciate your newly remodeled home, you must complete one crucial step: cleaning. Dust and dirt from the makeover can soon gather, making your once-pristine area appear cluttered and uninviting. Don't be discouraged by this final obstacle! You'll be able to change your home from a construction zone into the comfortable comfy haven you've always desired with a little effort, the correct cleaning materials, and our helpful advice. Roll up your sleeves, gather your cleaning supplies, and let's get started!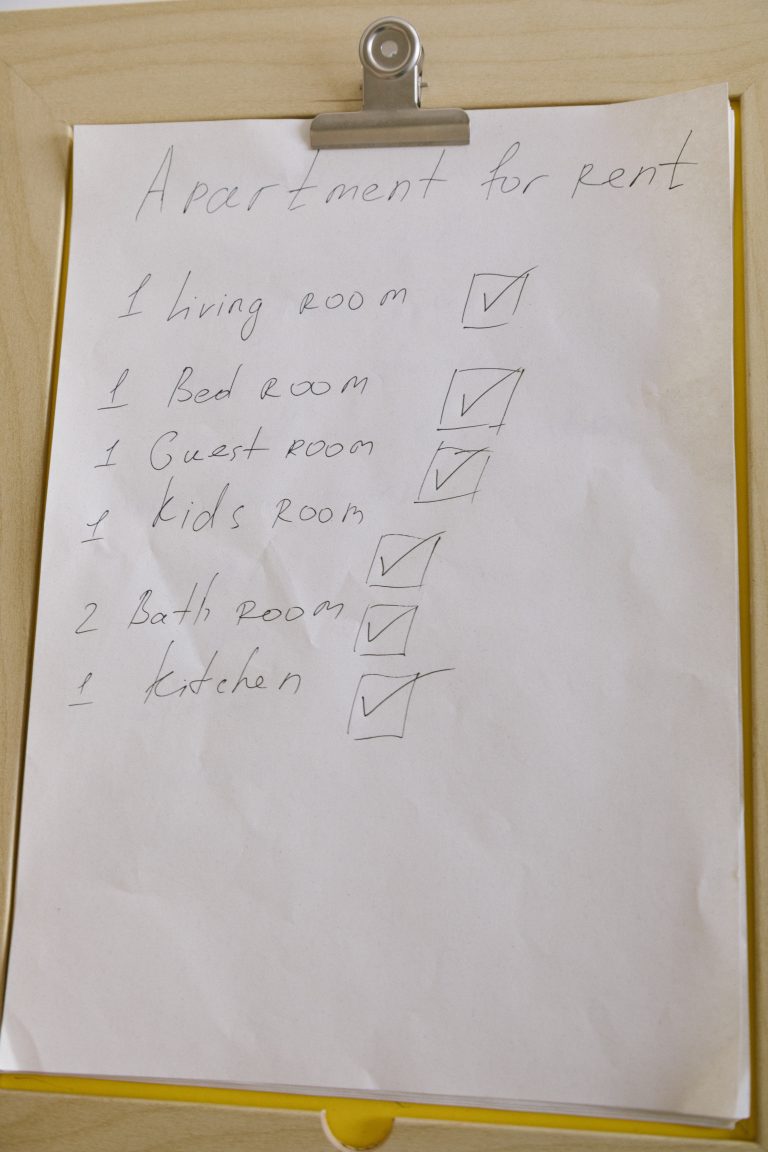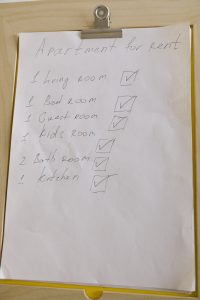 Pre-Clean-Up Checklist
Before beginning the cleaning process after a renovation, it's important to take some safety precautions and gather all necessary cleaning supplies. Here's a checklist to help ensure you're prepared: 
Safety Precautions
Wear safety equipment, such as gloves, masks, and goggles, to prevent skin contact with cleaning agents or inhaling dust and debris.

 

Turn off the HVAC system during cleaning to prevent dust from circulating throughout your home.

 

Cover any furniture or surfaces not protected during the renovation to avoid further damage from cleaners or debris.

 

Retain children and pets away from the area while cleaning.

 
Necessary Cleaning Supplies
For floors and carpets, use a wet/dry vacuum or a HEPA filter

 

Microfiber cleaning cloths for wiping down surfaces

 

All-purpose cleaner for general cleaning

 

Heavy-duty cleaner for tough stains

 

Glass cleaner for windows, mirrors, and light fixtures

 

Sponge or scrub brush for hard-to-clean areas

 

Mop and bucket for tile or hardwood floors

 

Trash bags for debris removal

 
Tips for Working Efficiently During the Cleanup Process
Begin from the top of the room and work your way down to avoid re-cleaning surfaces

 

Use a cleaning solution that's safe for your specific flooring or surfaces

 

Don't forget to clean high-touch areas such as doorknobs, light switches, and cabinet handles

 

Take frequent breaks to avoid exhaustion

 

Stay organized by creating a cleaning plan or checklist

 
Following these safety precautions, gathering all necessary cleaning supplies, and working efficiently during the cleanup, you can ensure your home is clean and safe to live in after a renovation.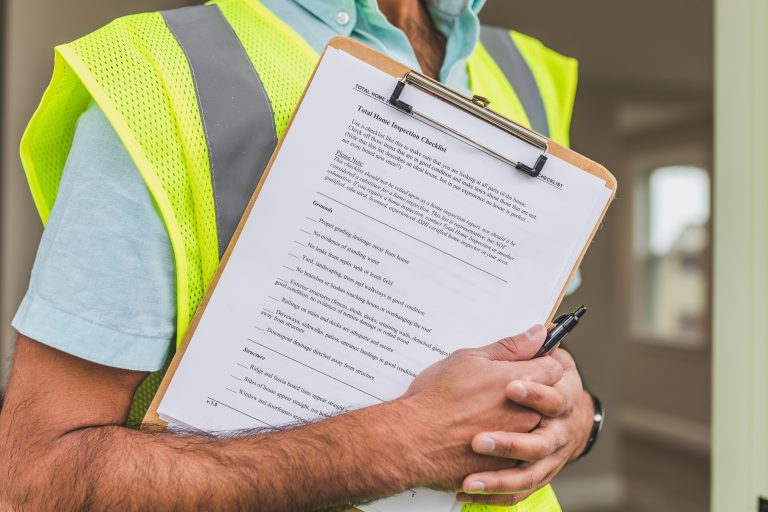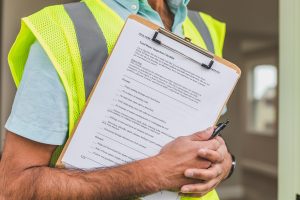 Interior Cleanup
Once you've taken safety precautions and gathered all necessary cleaning supplies, it's time to start cleaning up the interior of your home after a renovation. Here are some tips for each specific task: 
Removing Dust and Debris from Surfaces, Floors, and Carpets
To get rid of dust and debris from floors, carpets, and surfaces, use a vacuum with a HEPA filter or a wet/dry vacuum.

 

Use a microfiber cleaning cloth to wipe down surfaces and walls

 

Don't forget to clean baseboards and molding

 
Deep Cleaning Carpets, Rugs, and Upholstery
Vacuum carpets and rugs thoroughly before deep cleaning

 

Use a carpet cleaner or engage a professional to clean your carpets and rugs deep

 

For upholstery, use an appropriate cleaner and follow the manufacturer's instructions

 

Don't let carpets or upholstery get too wet during cleaning, as it can damage the material

 
Cleaning Blinds, Windows, and Light Fixtures
Use a microfiber cloth or duster to clear dust from blinds and shades

 

Clean windows inside and out using a glass cleaner and a squeegee or lint-free cloth

 

For light fixtures, remove any coverings and wash in warm soapy water

 

Don't forget to cleanse ceiling fans and vents

 
Sanitizing Bathrooms and Kitchens
Use an all-purpose cleaner or a specialized cleaner to sanitize counters, sinks, and toilets

 

Sanitize high-touch surfaces like doorknobs, light switches, and handles using a disinfectant spray or wipes

 

For tougher stains, use a heavy-duty cleaner or baking soda and vinegar solution

 

Don't forget to clean appliances such as the oven, refrigerator, and dishwasher

 
By following these tips for removing dust and debris, deep cleaning carpets and upholstery, cleaning blinds and windows, and sanitizing bathrooms and kitchens, you can ensure that the interior of your home is clean and free of any unhealthy particles or bacteria left over from the renovation process.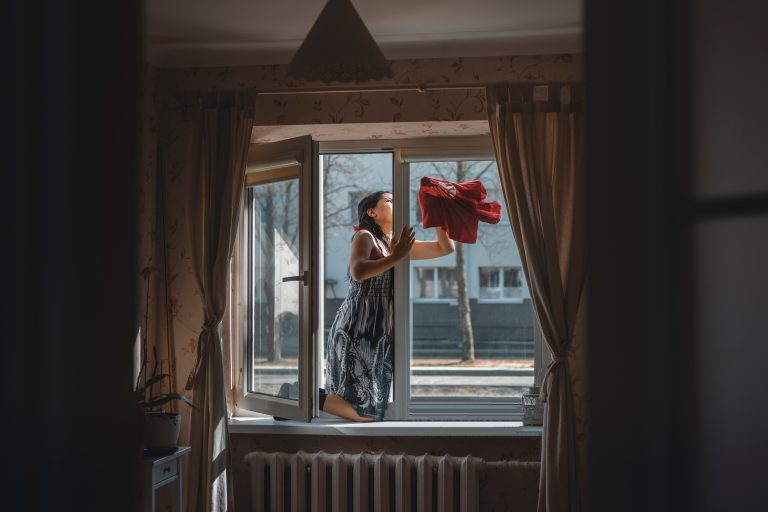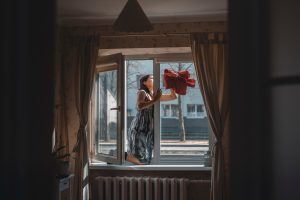 Exterior Cleanup
After a renovation, the exterior of your home may also need cleaning. Here are some steps to help you thoroughly clean the outside of your house: 
Handling Debris Removal from Both Inside and Outside the House
Begin by removing any large debris from the yard with a rake or leaf blower

 

Rent a dumpster or schedule a pickup for any leftover construction debris

 

Remove any protective coverings or tarps that were used during the renovation

 
Cleaning Windows and Power Washing the Exterior of the House
Use a glass cleaner and a squeegee to clean windows and doors

 

Rent a power washer or hire a pro to power wash the outside of your house

 

Pay close attention to difficult-to-reach places like eaves and gutters

 
Cleaning Outdoor Furniture and Grill
Remove any cushions or fabric from outdoor furniture and wash them according to the manufacturer's directions

 

Wipe down outdoor furniture using a mild soap solution

 

Use a grill brush to clear any debris from the grill grates and interior

 

Wash the exterior of the grill with a grill cleaner

 
Following these steps ensures your house looks spotless from the outside and the inside after renovation. A clean exterior can improve curb appeal and make your house feel welcoming to guests. 
Final Touches
Now that the cleaning process is finished, it's time to focus on some final touches to make your house feel like home again. 
Proper Disposal of Hazardous Materials
Follow local regulations for disposing of hazardous materials such as paint, solvents, and batteries

 

Contact a local waste management company if you're unsure of how to dispose of certain materials

 
Adding Finishing Touches to Make the House Feel Like Home Again
Hang up art and photos on the walls

 

Add decorative accents such as pillows, throws, and area rugs

 

Incorporate new lighting fixtures or curtains

 

Bring in plants to add natural beauty to the space

 
Tips for Maintaining a Clean Home After Renovation
Change air filters regularly to avoid dust buildup

 

Use doormats to keep dirt and debris from entering the house

 

Implement a regular cleaning schedule to stay on top of messes

 

Vacuum or sweep floors regularly to avoid the buildup of dust and debris

 
These final steps ensure your house feels like home again and stays clean and organized even after renovations. You can enjoy your newly renovated space for years with a little effort and attention to detail. 
A renovation can transform your home, but it's important not to overlook the final step: cleaning up. By cleaning your home's interior and exterior, you'll enjoy the beauty of your new space fully. From removing dust and debris to adding finishing touches, our guide has provided the tools and tips to make the post-renovation cleanup process as smooth and efficient as possible. Remember to take proper safety precautions, gather all the necessary supplies, and work efficiently to maximize your efforts. With a little elbow grease and dedication, you'll live in a beautifully clean and welcoming space in no time!