Part of designing an interior space is deciding on colors that you want to paint your walls. However, this can often be a tiresome process coming up with new ideas each time. If you are just too tired thinking about what color palette to use for your next project, then check out these interesting choices that could inspire you in interior design 2022.
1. Blue White Interiors
Blue and white have long been favorite combinations in decorating homes characterized by serenity, cleanliness, purity, and more positive meanings. The combination has always worked, whether it is in using wallpapers or painted directly on the interior spaces making them bright and fresh looking at the same time.
2. Coastal Style Living Room Decorating Ideas
If you love the beach and everything associated with it, you should be able to reproduce this style in your home. The colors to use include sand, seashells, and natural objects that will help create a nautical theme. Keep the interiors bright and breezy, using white as an accent color and bringing in elements such as driftwood.
3. Showcase A Love for Textures and Patterns with Modern Bohemian Décor
Combine patterns and textured materials such as different types of jute together with furniture pieces made from wood for a contemporary bohemian living room decorating style idea. It is best if these particular items are distressed looking, giving them a worn-out look that brings warmth into any space, making it seem more inviting.
4. Mixing Old and New Décor for A Modern Eclectic Look
From old to new, the key here is to mix and match materials such as wood with glass and marble for a blend of traditional and modern eclectic interiors. Pay close attention to texture and color to get the right look.
5. Black White with Red Accents Living Room Decorating Ideas
The black and white contrast is always an exciting idea that works well, but what makes it different here is red, which adds some drama to this living room decorating idea. Using red pillows together with small pieces of furniture is very effective in creating an inviting space.
6. Combining Neutrals to Bring Out the Beauty of Wood Paneling
Living room decorating ideas should focus on materials, especially a rustic look. Here, wood is the main highlight and what keeps it interesting is the use of different shades of neutral colors to keep things from going monotonous. This idea uses a light brown together with white for a well-balanced color contrast that still features wood appealingly.
7. Relaxed and Cozy Living Room Decorating Ideas with Earthy Colors
This living room decorating ideas combination brings together earthy hues using woods, taupes, and beiges to create a warm, inviting space where you can relax. The soft background music will help set the mood even better.
8. Modern Apartment Living Room Decorating Ideas for Empty Nesters
Empty nesters looking for modern apartment living room decorating ideas should look no further than this example which uses gray as the primary color to create an airy effect. Throw in some colorful accents such as green and pink to complete the design, not look dull.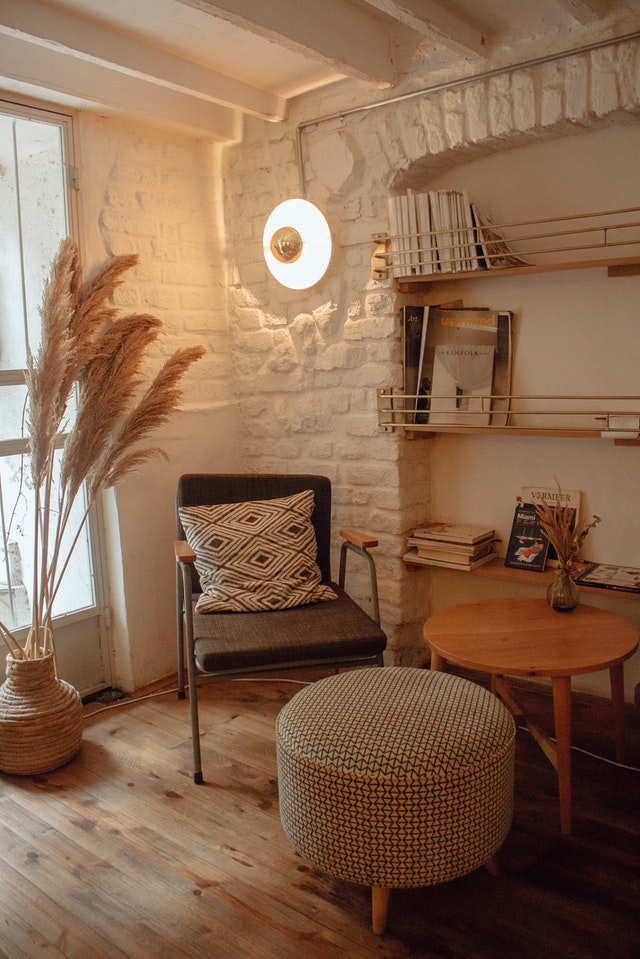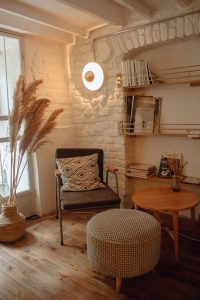 9. Paint the Ceiling A Different Color Instead Of Using Wallpaper
Taking inspiration from fabrics, you can try painting your ceilings a different color instead of using wallpaper to give them more texture. This will also help make your rooms seem larger than they are, making them bright and fresh at the same time. You can also use reverse patterns on opposite walls for symmetry.
10. Gray and White Apartment Living Room Decorating Ideas
Gray is used together with white here to create a modern apartment living room decorating idea that is fresh looking at the same time. The key to getting it right is combining shades of gray and white, giving you more options apart from light gray, creating a contrast that will bring out the beauty of moldings and walls.
11. Use Mesh for A Geometric Living Room Decorating Ideas Inspiration
Geometric patterns are becoming increasingly popular for living room decorating ideas. Here, a mesh is used to create a bold design; therefore, make sure you take your cues from it before choosing colors or furniture items. You can also introduce different textures using fabrics such as velvet which will help break up the monotony.
12. Using Brights That Sparkle to Bring Symmetry into Your Spaces
This living room decorating idea uses different shades of green that sparkle to bring symmetry into your space. The key here is not to go overboard by using too many colors, so stick to two or three max. You can also introduce different patterns, particularly sequins, to capture the modern vibe.
13. The Right Amount of Bling Goes a Long Way For Luxurious Home Decorating Ideas
Add a touch of luxury to your home decorating ideas by choosing colors that have some glitz and glam. It does not need to be over-the-top but just enough bling to catch the eye without going overboard, making it look chic and modern at the same time. Use luxury materials such as satin and silk in the mix for even more embellishment without feeling budget-conscious all the time when working on this project.
14. Outstanding Living Room Color Palette with Dark Brown Furniture
Dark brown is a color that will never fail to deliver style and elegance. You can use it for your living room decorating ideas with neutral colors such as white plus gray, plus some bright accents strategically placed to add diversity. Dark brown furniture works well in this environment in terms of home decorating. It goes from modern contemporary designs to classic chic, depending on the texture used and patterns. It's a vibrant hue; therefore, make sure you balance everything out by introducing lighter shades.
15. Rustic Living Room Decorating Ideas with Lots Of Natural Light
If you are looking for rustic living room ideas, look no further than this example that uses lots of natural light and warm color hues. The idea here is to introduce different textures through the choice of materials used in upholstery, curtains, and other décor items. You can also use rugs, which will help evoke a calmer atmosphere depending on the design chosen.